Darlinghurst
Residents Of Darlinghurst Know That The Path To Eyelash Extension Heaven Is Paved Through Fancy Lash
We truly affirm that beauty is in the eyelash of the beholder, here at Fancy Lash. The road to natural beauty can be given a jump start with the finest eyelash extensions in Darlinghurst, thanks to Fancy Lash!
If you're wanting to boost your look whilst also reducing your make-up time, then it's made easy with the eyelash extensions Darlinghurst residents know and love!
The Primary Benefits
of a Visit to Fancy Lash
We're known across Sydney as the eyelash extension specialists for a reason, just ask any of our clients.
Whenever you come to Fancy Lash, no matter which of our great services you go for, you will be sure to experience:
An appointment that will run as long as you need to ensure that you are completely happy with your new lashes
Infill packages for returning and repeat customers
Affordable pricing for all styles
Fully qualified and accredited technicians
A fully insured location
High health and safety standards
The longest lasting lashes
A calm and relaxing session in the salon
A pain free and pleasant experience
Natural Eyelash Extensions
Are you looking for natural eyelash extensions? Look no further than Fancy Lash Darlinghurst!
Our eyelash extensions are suitable for any age, and are ever resistant to water! You can relax as you take a swim or a shower, and you can laugh as it rains and enjoy lush lashes that will significantly cut down your morning prep time routine, without the need for painstaking mascara!
Our team of lash technicians know how to achieve the right look to suit your features while working with you to understand your style and preferences. Meaning that no one will leave Fancy Lash unhappy! You'll be raring to go and show off your new look and will turn heads everywhere you go!
Treat yourself to an eyelash makeover today
Luscious and natural looking, your new lashes will truly bring out the colour of your eyes
You deserve to look and feel your best! Eyelash extensions can be matched to a plethora of differing styles; to give volume, curl, thickness, or even length, with an ultimate goal to give you a look that suits perfectly.
Our specific and uniquely tailored lash extension technique grafts individual synthetic lashes to your natural ones with some of the highest-quality products known to beauticians. Long, luscious and natural-looking lashes will make you feel beautiful and confident, without a shadow of a doubt! Treat yourself, kick back and relax with us as your eyes get a makeover today, you deserve it!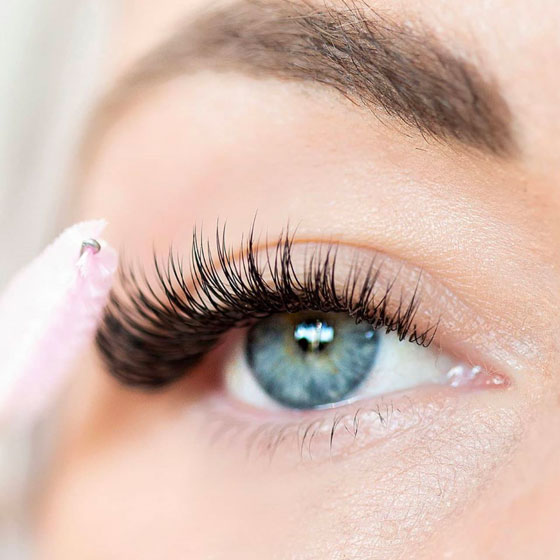 Live in Darlinghurst? Eyelash Extensions are a short walk away at
Fancy Lash!
Talk to our team about new lashes today and look and feel like a celebrity. Your new eyelash extensions will enhance your eye area to make them look bigger, bolder, and reinvigorated. Our lashes will also help to bring out your natural eye colour, impressing your friends and colleagues alike.
Fancy Lash extensions can even withstand swimming, showering, or wet weather, meaning you can go about any activity whilst still looking stunning! Refresh your look today, and do away with the annoying, messy mascara by spending a little time with the team at Fancy Lash. We can't wait to help you look your best!