Russian Volume Eyelash Extensions
The Finest Russian Volume Eyelash
Extensions Sydney Can Offer
If you are looking for one of the most popular new trends in eyelash extensions, Russian Volume Lashes are it. Starting in Russian in 2010 and invented by Russian Master Lash Stylist, Olga Dobronravova, this trend has spread across the globe as it provides full, luminous lashes; and now you can have them thanks to Fancy Lash.
While classic eyelash extensions add length, they do not add fullness. Russian Volume Eyelash Extensions are well suited to those with few natural lashes to achieve the volume you desire! Speak to the team at Fancy Lash about the look you are hoping to achieve today and let's see if Russian Volume Eyelash Extensions are right for you.
Before & After
See Our Clients' Great Lash Transformation
The benefits of Russian Volume
Eyelash Extensions
Russian Volume Eyelash Extensions fill the gaps between sparse natural lashes, creating a fluffy, softer light weight look. They also look darker than classic eyelash extensions sets, creating a more lavish look. Imagine getting up in the morning and looking amazing without having to apply any makeup!
Dark lashes negate the need for mascara, keeping you looking fabulous all the time!
Classic Eyelashes Vs. Russian Volume Lashes
Classic eyelash extensions add length making lashes more noticeable and adding a darker color to the lash. Classic lash extensions are a bit heavier than the Russian Volume lashes, risking damage to the lash or less time staying attached.
Russian Volume Lashes add fullness to the eyelash, improving the texture and volume, specifically for people who have thin natural lashes or very few lashes.
Russian Volume Eyelash Extensions
How much more volume
will they provide?
There are various levels of volume to choose from with Russian Volume Lashes, starting from the 3D level, going all the way up to 8D lashes per one natural lash. Our experienced team will help you select which is appropriate for the strength of your natural lashes.
There is also no pain or discomfort during the application process, and lashes should last for 4 to 6 weeks. While we recommend that you keep them dry for the first 24 hours, you can get them wet after that without risking any damage.
How are these extensions applied?
The method for applying Russian Lash Extensions is the creation of a "fan" that features anywhere from two to eight extensions carefully attached to a single natural lash.
This means up to 500 or more extensions can be applied per eye, offering an incredibly dense and lush look.
The bonus being that due to their feather lite weight, you'll hardly notice that you are wearing any eyelash extensions at all. The density of the lashes can be tailored to your desired look with varying extension lengths, thicknesses, and curls.
We are also able to alter the look of the fans themselves. Would you like broad, medium, or narrow? All are possible, and we will match them to your look accordingly.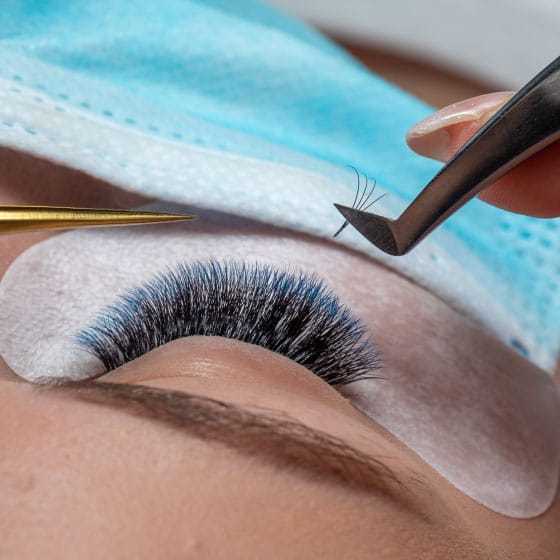 Speak to Fancy Lash About The Best Russian Volume Eyelash Extensions in Sydney
Today!
If Russian Volume Lashes sound like the look you desire, speak to our team about booking an appointment today! Break through lash limitations with anywhere from two to eight extensions applied to a single natural eyelash via the Russian technique.
Enjoy the comfort of these extensions that are so light; you'll forget you even have them on until you see your beautiful reflection that is!