2D Eyelash Extensions
The Finest 2D Eyelash Extensions
Sydney Can Offer
Here at Fancy Lash, we ensure we keep across all developments in eyelash extension technology to guarantee you have all the options you need available to you. This makes it easy to find the best solution for you, like the 2D lashes Sydney can;t get enough of!
Our 2D eyelash extensions offer a natural-looking lash alternative that places two lashes on each of your single natural lashes for a fuller look that can last for up to three months if correctly maintained.
2D lash extensions Sydney residents love can be found right here. They are identical to real lashes and offer a variety of different looks. You can trust our lash extension experts to make sure the application and lask polish is perfect for a completely natural look!
As 2D volume is significantly thicker than your natural lashes, you can create a dramatic look that will provide a youthful and glowing aesthetic to your face.
The benefits of 2D
Eyelash Extensions
This option is dense and you will also get these other Fancy Lash benefits:
Longer appointments
Guaranteed complete satisfaction
Reasonable pricing for all budgets
The longest-lasting lashes
A relaxing application experience with no pain
Infill packages
Fully qualified and accredited technicians with total adherence to health and safety standards via a fully-insured location
2D eyelash extensions also have the option of being curled or uncurled with various colour tones options for added enhancement.
2D Eyelash Extensions
Enjoy complete longevity
with our eyelash extensions
So many people opt for Fancy Lash eyelash extensions due to their longevity. All it takes is a simple care process and you'll be able to enjoy around two to three months of your new stellar look. With a little maintenance performed every two weeks, your new look can be your everyday look with ease.
Our experienced eyelash extension specialists offer infill packages to touch-up your lashes and expand their life. It also helps to avoid excessive water and oily products - makeup is completely fine as long as it is not liquid-based. We also recommend that you use oil-free makeup remover and avoid mascara which you won't need anymore anyway!
Visit our
comfortable studio
for a complete refresh
Step into our modern and relaxing boutique where our experienced team will perform a comfortable and relaxing application method for your new 2D eyelash extensions. They will be gently attached to your single natural lashes creating a lush look that will accentuate your eye colour and brighten your features. Feel like a little more? Check out our 3D eyelash sets as well.
These comfortable lashes will feel so good you'll forget you have them on! Our stylish space is here to help revitalise your look and mind while having you walk out the door with increased confidence and a new look that you will love!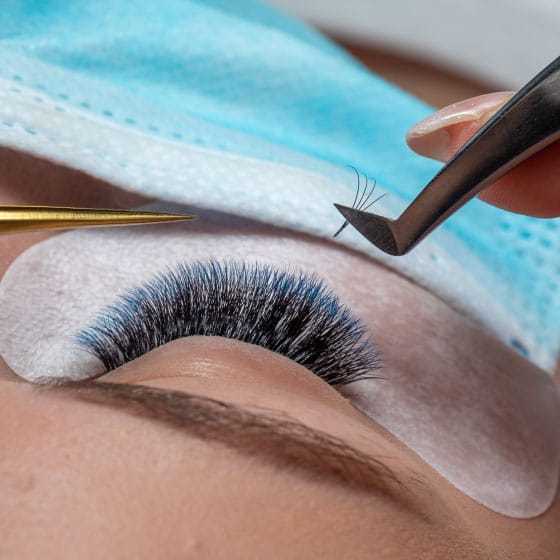 Speak to Fancy Lash About The Best 2D Eyelash Extensions in Sydney
Today!
Just speak to our team about booking an appointment and forget all about any previous lash limitations. Our 2D eyelash extensions will give you the look you desire with added comfort and convenient longevity.
It's easy to find your new look with a little help from the team at Fancy Lash. Ensuring all of our clients are beyond happy, fresh and revitalised is our goal and joy. Pay us a visit today!