Brow Wax
For The Finest brow wax Sydney
Can Offer, Visit Fancy Lash
The task of handling your eyebrows can be tricky and risky. For those who struggle with symmetry via the tweezers, shaping your brows can be stressful. You can avoid with the brow wax and eyebrow tinting Sydney residents know and trust at fancy Lash.
Just like finding the perfect hairdresser, you'll want someone you have faith in handling the threading, shaping, and plucking of your brows with an eye for perfectionism, creating a faultlessly symmetrical and shapely look. Fancy Lash can do precisely that with the best brow wax Sydney can offer, topped off with a tint to find the perfect colour for your look.
As the premium specialists in Sydney when it comes to eyebrows and lashes, the team at Fancy Lash are trained to ensure that you look your best all the time. 
The Benefits Of Brow Tints
And Wax At Fancy Lash Include:
Looking for eyebrows that enhance your features? Fancy Lash are the experts at providing a natural look.
Appointment times that run as long as necessary
Great pricing
Fully qualified and accredited technicians
Absolute adherence to health and safety standards
A fully-insured location
A calm and relaxing experience
Speak to us to book an appointment for stunning eyebrows that enhance your natural beauty and impress all who look your way.
Best Choice
Why Fancy Lash Is the Best Choice
For Brow Wax, Tints And Eyebrow Shaping In Sydney
Our team specialises in eyebrow services such as brow shaping, wax and tints and can redefine overplucked eyebrows for first-time treatments to maintenance sessions. We will start with a thorough consultation to listen to your needs and ensure you are completely happy with the proposed design and colour of your tint for your new eyebrows.
You can trust our team of technicians who are highly trained and experienced with the primary goal of delivering a look that suits your features and style. We aim for a natural aesthetic but work with you to achieve any look you desire.
Why
Consider Professional
Brow Shaping, Wax And Tints?
While some people are gifted with beautiful eyebrows, knowing the best ways to groom them can be a challenge. This is where many people prefer to opt for professional help on a regular basis to remove the stress of having to maintain them on your own.
Our eyebrow specialists can transform the way you see your facial features enhancing the possibilities of your look. A single eyebrow hair can change the entire shape of the brow, and by extension, the shape of your face, not to mention the wondrous things we can do with colour via tinting! 
Don't risk overdoing your eyebrow maintenance on your own and making a mistake like removing too many of the wrong hairs. Eyebrows can take a long time to grow back and sometimes won't grow back at all.
Save yourself any worry and allow our professionals to take their time and ensure a good job and stunning new look. The price list for these two options is as follows:
Brow Wax $25

Brow Tint $25
Relax while getting a new look
Our beautiful boutique is here to ensure you have a relaxing experience having you leave feeling revitalised and renewed. We love our customers and want them to have an enjoyable experience with a beautiful and confident result!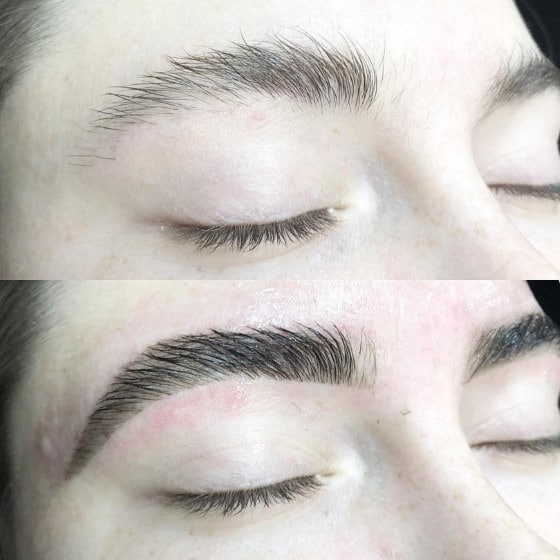 No matter what aesthetic you hope to achieve with your eyebrows, the team at Fancy Lash can get you there.
Get Your Brows Taken Care Of At Fancy Lash
Today!
Book an appointment to get the best eyebrow shaping in Sydney with Fancy Lash and feel like a model with a new, beautiful look!
Our team works hard to ensure you look good and feel good via a minimal way to achieve maximum beauty. Come and see us about your eyebrows today and let's get you a new aesthetic that you'll love!