Henna Eyebrows
The Best Henna Eyebrows
Sydney Has To Offer, Bar None
If you are looking for one of the most popular new trends in eyebrow beauty, you have found it with Henna Brows. Henna has quite literally been used for thousands of years to temporarily dye the skin from India to Africa, but henna eyebrows have recently hit the Australian shores; and now you can utilise it thanks to Fancy Lash.
You may be thinking that Henna Brows are like Henna tattoos, and you'd be right. The tinting techniques of Henna Brows are based on other techniques that utilise henna. The key difference from these more traditional Henna tattoo methods is that the shades for brow tinting utilise henna suitable for eyebrow tones.
Eyebrow Tattoos vs Henna Eyebrows
Tattooed eyebrows tend to last around 2 years but are limited in the colouration or tinting available, and can be quite an invasive process for many clients. Henna eyebrows can be tinted to suit the client much more, and is a far less invasive and lengthy procedure, and they last for 3-5 weeks depending on the individual clients.
The Benefits Of
Henna Eyebrows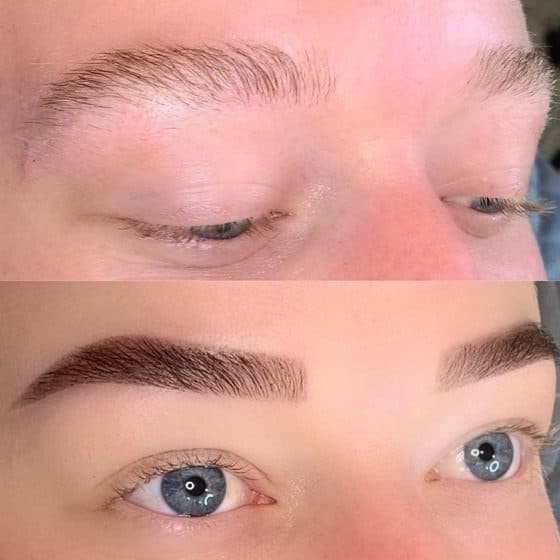 Henna is plant-based/vegan and 100% natural
Perfect for low-maintenance eyebrows without needing makeup!
Add volume and depth to your eyebrows
Non-invasive technique
Quick and Easy Procedure (approximately 30 minutes)
Great for people with naturally dry and sensitive skin
Best Choice
Why Is Fancy Lash The Right
Option For My Henna Brows?
Our highly trained brow and lash technicians are well versed in options and love working with you to find the best look for your features. Our Henna Eyebrows help to emphasise the natural beauty of your eyes, and with Fancy Lash at your beck and call, you'll get the perfect look to suit your aesthetics.
Even if Henna Eyebrows aren't the one for you, many of our other products are always available to make finding the perfect treatment for you easy.
Fancy Lash offers Henna Eyebrow treatment at a great, affordable price point of $75.
Henna is perfectly safe, as it is made from the Lawsonia plant and has been used by people for thousands of years, ranging from African to India. It lasts for up to 5 weeks, but does not penetrate all the layers of the skin.
How
Do I Know That Henna Eyebrows Are For Me?
Speak to the skilled team at Fancy Lash today! We are here to work with you in working out what look and treatment will be right for you. We can offer Henna eyebrows, or eyebrow threading, in conjunction with eyelash extension options too such as:  Classic Lash Extensions, Natural Lash Extensions, Hybrid Lash Extensions and our very popular Volume Lash Extensions. Enhance the beauty of your eyes today with Fancy Lash's Henna Eyebrows!
We know that once you see how much time during your morning rituals our Henna Eyebrows can save you, you won't hesitate to get your eyebrows "did" with us! So, come and see us about your new aesthetic right now!
We encourage you to speak to our team about booking an appointment to take advantage of these modern advancements in beauty. Forget about microblading, or arduous eyebrow pencilling, Henna Eyebrows will give you the voluminous look of a celebrity with undeniable and convenient longevity.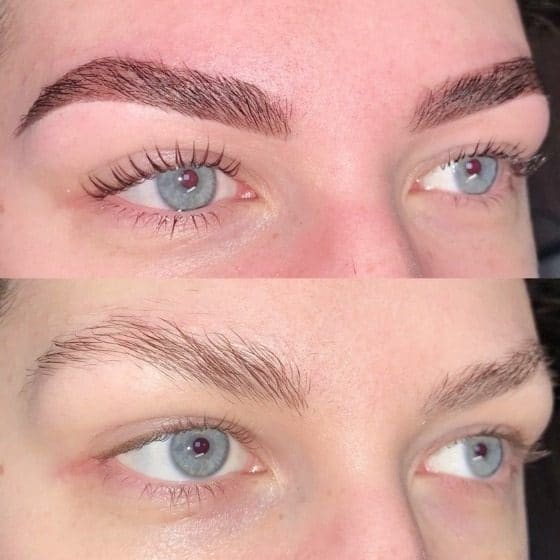 Get Your Brows Taken Care Of At Fancy Lash
Today!
Enjoy having the best eyebrows in town with a little help from the team at Fancy Lash, as we take pride in helping our clients look rejuvenated and reinvigorated, every time. Pay us a visit today!